Sjamanisme, rituelen, kunst en cultuur uit Mongolië.
Helaas moeten we deze week annuleren. De dag voordat MJ en zijn team naar Europa zouden vliegen hebben zij te horen gekregen dat zij geen visa krijgen. Op Lothlorien wordt door Richard Hoofs een alternatief programma aangeboden een Veda week (ayuvedische week).
Munkgerel Bat en Enkhtaivan Dorjdulam, twee Mongoolse Sjamanen, komen voor de derde keer naar Centre Lothlorien, nu samen met twee andere mensen uit hun team. Zij delen met ons hun kennis over het Sjamanisme in Mongolie en hoe zij dit in hun dagelijkse leven toepassen. Zij zullen in contact gaan met hun voorouders en dit met ons delen. Ervaar wat deze rituelen met je doen. Het kan je een diepere verbondenheid met jezelf en jouw spirituele helpers geven. De week is verdiepend en kan ook een eerste kennismaking zijn met het Mongools sjamanisme. De week wordt in het Engels gegeven en waar nodig vertaald naar het Nederlands.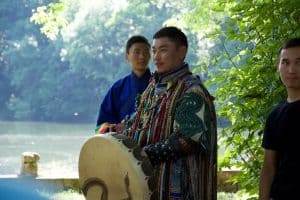 MONGOLIAN SHAMANIC ART WEEK, het programma
The week starts at sunday 20.30h: Welcome and official Opening
Ceremonies
Presentation
Rituals
Consultation with the anceston
Exhibition
Chakra healing and exercise
Archery training
Drum and harp seminar
Harp lessons
Dance
Traditional Handcraft training
Personal consultation and massage
If you have: bring your own drum
Week Highlight
SHAMANIC WORKSHOP
Personal Consultation with Mongolian ancestor.
Healing massage by Mongolian shamans.
Mongolian Shamanic Fire Ceremony.
Sacred Shamanic Ritual: Build Ovoo
ART and CULTURE WORKSHOP (new program)
Mongolian Shamanic Art Exhibition(shamanic costume, equipment, painting
Mongolian traditional handcraft training for all ages.
Mongolian Archery training for all ages. (People can learn how to shoot with Mongolian bow. We will provide bow. But if you have own bow feel free to bring you own.
Mongolian team
Munkhgerel Bat (Mg), Mongolian shaman, Director of "Mongol Tenger Unen" shaman association.
Chuluunzaya Sandagdorj (Chuka), Designer, Artist, Craftsman and teacher;
Munkhbayar (Muugii), Mongolian shaman;
Enkhtaivan (Peace) Mongolian Shaman and professional healer;
Price €225,- exclusief verblijf
Participants This week is open for all people who interested in Mongolian Shamanism, Art and Culture.
Reserveer deze cursus
Verblijfsmogelijkheden